"Good artists copy. Great artists steal." That quote, often attributed to Pablo Picasso, has gradually edged its way into the collective wisdom through sheer force of repetition. What he meant, or what we've come to understand as his meaning, is that influence is the fuel of artistic creation; learning through imitation—or copying—is how any artist learns the trade. Young art students sit in museums for hours sketching old masters displayed before them. Musicians learn an instrument by playing their favorite artists' songs. But stealing—taking something of someone else and making it your own—is something different.
When cover art was revealed for
HIS NAME WAS YESTERDAY's self-titled album, the design—featuring a man in a black suit staring into a dingy bathroom mirror at an altered vision of himself—seemed somewhat familiar. That's because it looks a lot like the cover of SENSES FAIL's 2004 album, Let It Enfold You.
This isn't the first time this has happened.
AFTER MIDNGHT PROJECT's 2009 album, Let's Build Something To Break, features artwork of an astronaut in a field, much like that of BRAND NEW's 2003 full-length, Deja Entendu. BAND OF HORSES' Cease To Begin (2007) and its green moonlit seascape brings to mind the cover of BOUNCING SOULS' Anchors Aweigh (2003). ELECTRIC OWLS' Ain't Too Bright (which came out in May 2009) seems to be a carbon copy of IN FEAR AND FAITH's Your World On Fire cover, which was released a few months earlier. The list goes on and on.
For their 2008 album
Rotation, CUTE IS WHAT WE AIM FOR used a design featuring the same concept and approach from a piece of art created around 2004 for COUNTING CROWS.
On the design website
YouThoughtWeWouldntNotice.com, design studio Alphabet Arm details how CIWWAF's management contacted them to commission a design based on the Counting Crows imagery. A representative for Alphabet Arm says on the site, "After some back and forth over pricing, we were informed they were going to concentrate on the merch design in-house and [would] contact us later. We never heard anything back." When the album artwork later surfaced, Alphabet Arm couldn't help but notice a striking resemblance to their design.
This phenomenon isn't limited to album covers. Old-school metal heads might notice a strong similarity between
OVERKILL's skull and bat wings logo and AVENGED SEVENFOLD's. But that begs the question: is that really plagiarism? It's been held up time and again in musical plagiarism court cases that you can't claim ownership of a musical idea, just the execution of it. In other words, a band can't own the notes A-minor or D. They can, however, own their recording of themselves performing those notes. By that definition, you can't own the idea of a skull with bat wings or a butterfly collage.
But there's a big difference when one artist copies another piece of art, changes a few things and uses it in a different way. For example: An image inside the booklet for Owl City's
Ocean Eyes is clearly an altered version of a picture of Chicago by photographer Ben Eubank.
BREATHE CAROLINA
were also taken to task over the original cover art for Hello Fascination, which appeared to be a poorly altered version of a piece done by artist Ann Om. After Om contacted the designer of the Breathe Carolina cover, Hello Fascination was released with different artwork.
The degree to which artists take offense vary.
JAMES RHEEM DAVIS, the designer of the Senses Fail, cover hadn't seen the His Name Was Yesterday artwork until contacted for this piece. But he says, "I would agree it's definitely influenced by the cover I did." Instead of getting angry, Davis says he's flattered that something he created "influenced someone" enough to make something similar. "Sometimes you see artwork and think, 'That's what I want to do,'" he says. "You may try to replicate that style until you find your own." That's probably fine for young artists who aren't exhibiting their work or selling designs to record labels—but it can't last. "I think it's when you can't eventually branch off and distinguish your own style that it may become a problem for some," he says. "If an artist continues to blatantly rip off other artists—especially with technology allowing more communication throughout the world—you will eventually be called out."
His Name Was Yesterday drummer
MIKEY WATTS says he's aware of the similarities between his band's album art and that of Senses Fail, but that it's a fairly common practice for bands to borrow from one another's visual representations. "Many artists have had similar styles of artwork without stealing anything or paying tribute to the artist who had a similar design before them," says Watts. "Some of our favorite artists like Killswitch Engage, the End Of Heartache, 36 Crazyfists, A Snow Capped Romance, Sevendust and Cold Day Memory all have similar imagery on their covers at first glance." The differences, he believes, stem from coupling the image with the music inside "When you listen to [an album with similar art to another] and return to that image on the cover for a second look, that picture is its own reflection of that band's heart and soul. That's what we were trying to accomplish with the artwork—it's the best representation of what's to come from the music inside."
After Midnight Project frontman
JASON EVIGAN says there wasn't any intentional correlation between his band's cover and that of Brand New. He says the imagery came from a dream he had in which an astronaut was walking through a field of poppies. "He moved slow and calm while heading toward complete destruction," says Evigan. "I think it was a city in flames he was walking toward. I told the guys in the band the idea for the album art and did a mock up version. Right when the album came out, people were instantly accusing us of ripping off Brand New. To be honest, it never crossed our minds." Evigan says he doesn't recall ever having seen the cover of Deja Entendu and had a much more innocent reason for including an astronaut. "In reality, spacemen are just awesome."
Some similar scenarios haven't always gone down so peacefully, however. Guitarist
RAMIN NIROOMAND of In Fear And Faith (who, incidentally, took their name from a Circa Survive song) says his band went to great lengths to make sure their album design for Your World On Fire would stand out. "This sleeve was intentionally different and very elegant and classy, yet simple," he says. "A couple months later we saw a couple posts about our album artwork being stolen [by Vagrant's Electric Owls] or vice-versa. But keep in mind that our album had already been released." Niroomand says the reason for these types of incidents comes from there simply being too many bands. "The music industry in its current state is over-saturated with bands and lacking in the creativity department."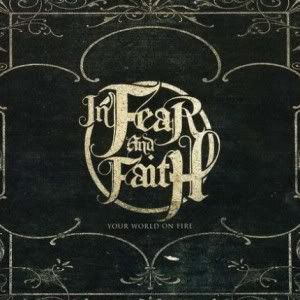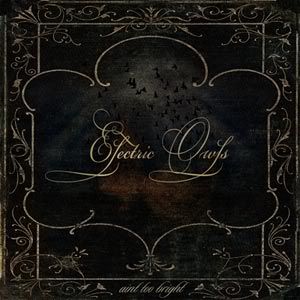 But who is really to blame when cover art is appropriated? Is it the bands? The designer? Niroomand blames the record labels. "They're the one's controlling the wallet most times, and they often don't want to spend for quality original art." After all, as Davis told us, "Some artists get to be so popular, expensive and unavailable that if you can find someone with a similar style for cheaper, it may work for you to go that route."
ASHLEY RINGROSE
of cover art design blog Sleevage.com says this is a current problem within the industry. "I guess designers want royalty-free art and also instantly recognizable imagery," she says. "It's sad as it seems like a cheap way out. They're attaching their name to [someone else's] artwork rather than trying to create something original."
While a blatant rip-off can be funny to some, infusing humor into artwork is another way that this issue becomes more complicated. There's a clear distinction between parody and plagiarism, and copyright law allows for a lot of protections for works intended to be viewed as a reference to the original work. In the world of punk— where tearing down the heroes of the recent past is a common practice—reusing an iconic image in a different context is an efficient means of deconstruction.
THIS IS HELL
guitarist RICK JIMINEZ says the humorous approach to parodying other bands' designs—like Weezer using AC/DC's trademark font or Bad Religion and NOFX swapping each other's iconic imagery for T-shirts—has become increasingly common. "Here and there, I think it works and can be clever," he says. "But sometimes it seems like a 'go-to' as opposed to coming up with your own ideas." Although he admits his own band have done this around the time of the release of their Warbirds 7-inch. "We covered an INXS song on that record, so the test press was a mock of the INXS Kick album cover," he says. "For Weight Of The World, we mocked Guns 'N Roses' [artwork for] Appetite For Destruction for the record release show cover." But paying homage is not plagiarism. "I think it's usually pretty obvious," says Jiminez. "When a band take elements from something and put a tiny variation on it and pass it off as their own without any credit acknowledged, that's when it becomes a foolish rip-off. The perfect example is Avenged Sevenfold straight-up stealing Overkill's logo and passing it off as their own."
But some artists like
ROB DOBI—who has worked with everyone from Blink-182 to Underoath—think even resorting to parody is taking an easy way out. "I never try to do cheesy homage or parody stuff," he says. "I try to stay above that and do my own shit." The one time he did try an homage, he ran into a legal hassle. Fall Out Boy had commissioned him to create an image for their Where The Wild Things Are tour with the members drawn like the monsters from the classic children's book by Maurice Sendak. "[The band] loved it," he says. "They didn't think too much about how close it resembled Sendak's style. Then I got a call one day from Fall Out Boy's manager saying Sendak's camp has seen it and said if we didn't come up with a new poster, we were gonna get sued."
Dobi is surprised that sort of thing doesn't happen more often. As a forum moderator on T-shirt design website
Emptees.com, he constantly sees direct rip-offs of other designers' work. "75 percent of the designs are band-related stuff and the amount of stuff that comes in that are direct rip-offs or copies of other shit is unbelievable," he says. "People are ballsy thinking about what they can get away with—and people do get away with it. I haven't heard anything about bands getting the shit sued out of them when they should." He points to one example featuring a Silverstein shirt. "Elements of the shirt were ripped directly from the artwork [of videogame Red Dead Redemption]. It wasn't redrawn or anything. Maybe it had some shitty Photoshop filter thrown on it." Dobi is passionate when it comes to the topic of idea theft because he sees his own line, Full Bleed, copied all the time. "I wish there were some copyright police that you could call to go beat the shit out of people," he says. "But I guess it's a sign that I'm doing okay if I'm getting ripped off constantly."
Motivation isn't always easy to pinpoint here. But poster artist
KEVIN TONG—who has designed for Weezer and Jimmy Eat World—has a theory. "Why does someone rip off another person's work?" he says. "Think of all the ways a person can be shitty and there's your answer. [Being] lazy, unoriginal, greedy, uncaring and selfish." Artist and designer MICHAEL SHANTZ, who has produced artwork for Bring Me The Horizon and Gallows echoes the statement. "Lately, I have seen this circle in the scene where someone sees one designer do something—like an owl and an all-seeing eye—and then every single wannabe designer uses the same theme. Basically, the same design is done over and over. I feel like this is about kids having no knowledge of anything real—nobody reads and nobody does anything but look on blogs at things everyone else likes rather than [creating] art of something they love themselves. This is what starts the rip-off game. You see a design that's exactly what you want, and instead of doing your own, you 'borrow' something from it, copy the style or literally draw the exact same [design] and change one or two things."
Shantz says he's been ripped off more times than he can remember. Then again, so have most bands when it comes to musical ideas. That's just how the music world works. "I think it's easier for a band to put a spin on another band's sound or musical ideas than it is for a visual artist," says Jimenez. "In my opinion, there are way more subtleties in music than in visual arts. If someone is ripping someone else off, regardless of what media, it's a rip-off. But I think there is a lot more citing of influence in music as opposed to, 'Let's do what this band did' in artwork."
From the other side of the discussion, Shantz says designers are getting away with highway robbery right now. "I can see how art and music overlap in this sense," he says. "But I think with music, you may take a sample you like and use it to create a fully original song. Yes, you're using someone else's work, but you're creating
with it. [Stealing] would be more like hearing a riff and using the exact riff and calling it your own. It's not really a new thing. This discussion has been going for ages, but I honestly think if you're [creating] art or music and question what you're doing, stop and do research on it. See if it's [original] and then continue. This would probably help to combat the theft that's running rampant in the art and music world."
The debate is unlikely to go away any time soon, especially as our ability to reproduce other people's work remains at the click of a button—and some believe the practice is it's necessary for creating new art or music. In an
article written by Malcolm Gladwell in The New Yorker, he looks at where to draw the line between influence and plagiarism when it comes to the written word.
He writes, "There were times when one artist was simply replicating the work of another, and to let that pass inhibited true creativity. But it was equally dangerous to be overly vigilant in policing creative expression, because if Led Zeppelin hadn't been free to mine the blues for inspiration, we wouldn't have got "Whole Lotta Love," and if Kurt Cobain couldn't listen to "More Than A Feeling" and pick out and transform the part he really liked, we wouldn't have "Smells Like Teen Spirit"—and, in the evolution of rock, "Smells Like Teen Spirit" was a real step forward from "More Than A Feeling." A successful music executive has to understand the distinction between borrowing that is transformative and borrowing that is merely derivative."
Kurt Cobain wasn't afraid to cite any of his influences, be they the Pixies or Boston. Perhaps if more visual artists took that respectful approach, it would free them up to further avenues of unrestricted creativity. Or they could do as Albert Einstein said, and just better cover their tracks. "The secret to creativity is knowing how to hide your sources," he said. By the way, the idea of finishing a story with that quote comes from someone else.