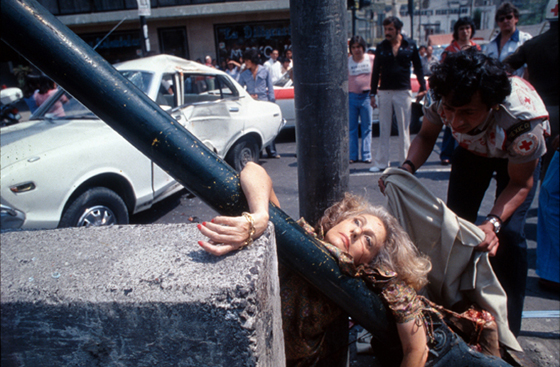 I avert my eyes from car accidents. Seeing fights in bars usually makes my stomach turn, and I really have no interest in war journalism. But when a friend turned me on to the photography of Mexican photojournalist Enrique Metinides recently, I was instantly riveted. Metinides, who caught the bug at a very young age when he photographed his first dead body, went on to become one of
Mexico City's most well-known tabloid photographers, taking shots of plane wrecks, electrocutions, murder and suicide victims, and everything in between. His work amounts to a haunting series of tragedies: the explosions of grief, yes, but also the banality of destruction. Many of the shots look posed, almost hyper-real, as if the most basic stuff of everyday existence is too tidy to carry the weight of misfortune the photo implies. It's usually the onlookers in the shots who supply this feeling. We catch them taking in the mess that we ourselves have come to look at, and we're all implicated. Should images of pain be this beautiful? There's not enough space here to answer that, but all I know is that I can't stop looking although I really, really want to. My nightmares will be a little more vivid tonight. Search for his photos online right now, and see if you don't have the same problem.








Originally published in the Boston Globe.